Hope you might forward this email.

Ask a child/class to add 1 + 1
Then inform him/them the Bible says it is 3.
Matthew 18:20, "where two or three are gathered together in My name,
I am there among them" Holman Christian Standard Bible

When we pray 1 + 1 really is 3
The point is that there is NO replacement for praying with others.
It is an EXPERIENCE no child should be denied.
It is the one HABIT mostl likely to connect them to a church for life.
What better gift could we give a child than his own support group?

Getting started is as simple as making a list of names.
Start with two-three peers...your child's choice.
Add two-three adults...your choice...or your pastor's.
Click Here or the image to Print a sample Prayer Partner List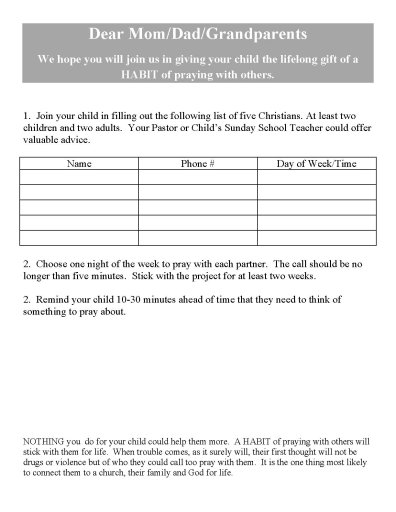 1. Join your child in filling out the list of at least three prayer partners.
At least one child and one adult. Your Pastor or Child's Sunday School Teacher
could offer valuable advice.

2. Choose one night of the week to pray with each partner. The call should be no longer
than five minutes. Stick with the project for at least two weeks.

3. Remind your child 10-30 minutes ahead of time that they need to
think of something to pray about.

For more free prayer helps visit www.teachustopray.com
For VBS and weeknight activities visit www.thevbshalloffame.com
If anyone you know is working with vbs or church weeknight activities
could you forward this email?