We do not charge for our emails or other materials.
We ask only that you forward thme to a friend or two.
If you are receiving this email from a friend Click Here to Subscribe
If you are receiving it from us we hope you might forward it?


Let this week be the week you
lead your children to
a lifelong habit of daily prayer.



Print two copies of the following bulletin insert.
Put one on your fridge.
Share one with your church.
(For church use print double sided and cut in half.)
Click the image to print.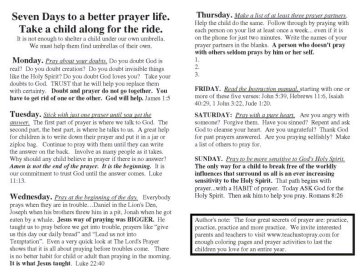 For more prayer helps visit www.teachustopray.com
If anyone you know is working with vbs or church weeknight activities
could you forward this email?